Individual Therapy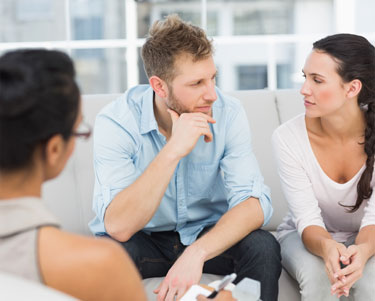 Therapy is a diverse and valuable solution for many mental health issues, but you don't need a clinical diagnosis of bipolar disorder or depression to benefit from learning how to deal with your feelings and make choices that will benefit your future and the people around you.
Working with a Therapist
You've probably had a "heart to heart" with a friend where one of you talked about a difficult subject and felt better at the end of the conversation. Even if you didn't identify a specific solution for the problem, the act of talking about the issue helped you see the problem from a new direction.
With the help of a professional therapist or counselor, you may be able to work toward solutions that you've been unable to confront without the help and encouragement of a mental health professional.
For example, sometimes we behave in ways that aren't beneficial for building relationships. Behavioral therapy could help you identify self-defeating patterns in your personal relationships and learn how to prevent those behaviors from occurring in the future.
---
---
What is behavioral therapy?
We all have self-destructive behaviors, but some people have behaviors that are mentally or physically injurious. Also called behavioral modification, this type of therapy is designed to identify bad habits and figure out what good habits would be best as replacements.
In many cases, behavioral therapy is used to treat common mood disorders, and it's also an option for the treatment of mental disorders.
For example, after a diagnosis of obsessive-compulsive disorder (OCD), a person might seek out behavioral modification to learn how to stop engaging in harmful behaviors. Another patient suffering from an eating disorder might also seek out behavioral modification.
Mood disorders that behavioral therapy might help include:
Bipolar disorder
Depression
Obsessive compulsive disorder (OCD)
Post-traumatic stress disorder (PTSD)
Schizophrenia
Some mental disorders that may benefit from behavioral therapy include:
Autism
Eating disorders
Substance abuse problems
Some patients even seek out personal counseling for help managing pain due to a chronic condition. The treatment for some diseases is painful, and therapy can help a patient cope with that pain.
How Does Behavioral Therapy Work?
During a personal counseling session, there are many ways to proceed with therapy. A caring mental health professional will work to identify the most appropriate course of action for treatment. For example, some patients may undergo depression therapy with a discussion about coping mechanisms. Another patient seeking social anxiety therapy may benefit from role-playing during a therapy session.
Some of the other techniques used in behavioral therapy include:
Activities that build confidence
Meditation and breathing exercises
Training in basic skills used in social meetings
Writing in a journal each day
Another valuable feature of treatment may include a discussion of current emotional responses to things like anger and fear and a plan for modifying the response a patient has to those stimuli. For example, a therapist might ask a patient to identify situations where he or she has felt scared or angry. Then, the therapist and patient can make a plan for dealing with those feelings.
Why is therapy important and beneficial?
There are many types of therapists and counselors, and those mental health professionals are dedicated to helping people improve their quality of life. Individual therapy offers many benefits that can improve a patient's life in areas like relationships, work, friendships, and family. Help is available for:
Depression: Depression therapy can help improve a patient's mental health by building self-esteem and helping the patient regain confidence.
Emotional maturity: Therapy can help a person who hasn't developed his or her emotional IQ learn to understand and use emotions.
Pain management: A mind is a powerful tool in helping a patient deal with the pain that comes with chronic conditions, diseases, and mental health issues.
Self-harm: Therapy can help a patient discover and understand the circumstances that lead to self-harm.
Social skills: Patients with limited social skills can learn to interact with strangers and new people, as well as with friends and coworkers while in public situations.
Unfamiliar situations: Therapy can help someone react with more confidence in unfamiliar situations.
Getting the Most Out of Therapy
It's important to realize that therapy isn't a one-sided treatment plan where a therapist can help a patient by doing all the talking. Valuable and rewarding therapy sessions come when a patient is willing to engage with the therapist.
It's important that a patient doesn't enter into therapy with a set timeline in mind. It's not uncommon to begin anxiety therapy with a few sessions each week and then reduce that number over time as treatment progresses.
Further, it's important to find a therapist who is easy to talk to and engage in conversation. If you're seeking treatment for something like social anxiety, it can be difficult to open up to a therapist. A counselor won't take it personally if you decide to work with a different mental health professional. A therapist is dedicated to your well-being and wants the best for you.
Before Therapy Begins
Before you arrive for your first counseling session, you may want to write some things down, so you don't forget something important when speaking with your therapist. You might make a list of the reasons that led you seek out therapy. Writing things down is cathartic (or therapeutic), and your counselor or therapist may have you keep a diary or journal during treatment.
Ask yourself these questions:
Have you thought about hurting yourself?
Do you have overwhelming feelings of anger or anxiety?
Have your habits changed recently? (like your sleeping patterns)
Are you experiencing problems in a personal or professional relationship?
Do you feel overwhelmed by life and other people in your life?
It's difficult for anyone to confront the problems in his or her life, but therapy and counseling can have an incredibly positive impact on your life. Get in touch with Billy Grammer, LPC/LMFT/CST with any questions you have about individual therapy and its benefits to your mental health and quality of life.